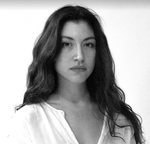 Julia Robbins
Bio
J/p is a portrait photographer based in Nyc. She has worked across the globe throughout Europe, India, Africa, and the Americas.
The strong graphic composition and emotive use of light and shadow contribute to her signature visual philosophy -- which is reflected throughout all styles of portraiture -- whether it be fashion/beauty, travel, or personality portraits.
For Julia, portraiture is a collaboration that both Celebrates and appreciates the multi-layered engagements of being.
She began this practice at an early age, playing dress-up and photographing her little sister.
At 15, she began her formal training working as an apprentice to world-renown photographer, Albert Watson, with whom she continued to learn next to for close to a decade.
During this time, She also studied film at Columbia University and photography at the International Center of Photography.
in 2015, she opened studio J/P Robbins, a photography and production studio based in New York City.
Since The studio opened, She has shot for Artnews Magazine, DNA Footwear, Epic Records and Sony Music, photographed and filmed alongside Peter Beard and sante d'orazio, and has produced international awareness-raising initiatives - most recently We are water.
in 2017, Her video portrait series Love POrtraits, made in collaboration with Dr. Poe//M, were screened at BAM: Brooklyn Academy of music, and her portrait series femminielli, shot in collaboration with the sacred gender project, were featured at the Mykonos Biennale.
2017 Treasure Hunt