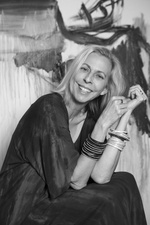 Anastasia Pelias
Statement
In my studio practice I embrace a process that is both intuitive and deliberate. My work moves from paintings on canvas and works on paper to site-specific installations, objects and video. My intention is to invite the viewer to experience a suspended moment and also to engage in their own consciousness. The human-size scale of my interactions with diverse media allows the viewer to immerse oneself in the work as opposed to simply being an observer.
Greek rituals and icons, the rich Afro-Caribbean culture in New Orleans, the shifting landscape of both my immediate environment, Louisiana, and of my familial home, Greece, all equally inform my work.
Relationships have always been at the center of what motivates me to make art.
Formal relationships dealing with color, marks and space. The different kinds of tension that exist between objects and forms. Relationships between people, their narratives and their environments. The complexities and absurdities of relationships – between man and woman, between mother and daughter. Deep ancestral connections that are ever-present, that resonate even if they're not always understood.
I want to reveal the poetic moments that exist within these relationships. I hope to create work that is full of emotion and visual pleasure.
Bio
Anastasia Pelias was born in New Orleans, LA to Greek parents. Her artistic practice is rooted in the dual cultural identity of both her native and ancestral roots in New Orleans, LA and Skopelos, Greece. Blending the vibrant, compassionate nature of a New Orleanian with her weighty Greek heritage, Pelias creates work that is rich with personal depth of emotion, life experience and the spirit of exploration. An abstractionist in the truest form, Pelias' work reflects a seriousness and dedication to the traditional principles of painting – both the concept and the actuality.
Pelias received her BFA from the Newcomb College of Tulane University in 1981 and her MFA from the University of New Orleans in 1996. Her career spans thirty years and multiple reinventions. She has been featured in exhibitions, art fairs and publications nationally and has works included in private and public collections, including the New Orleans Museum of Art, the Ogden Museum of Southern Art and the Mobile Museum of Art.
2017 Treasure Hunt