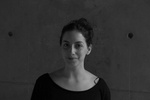 Esmeralda Momferratou
Bio
Artist and filmmaker
Studied Performance Design and Practice at Central Saint Martins, UK (BA, First Class Honours with semester abroad at Tisch School of the Arts, NYU)
MA Fine Art Digital candidate at Central Saint Martins, UK
2023 Garden of Mysteries
Anamesa, 2021
Anamesa captures a moment in time. The shadow of hair blowing in the wind, meets another body, a moment that embodies all kinds of feelings between the two. The video plays in loop, as if the artist plays this memory in her head over and over, and it is projected onto a textured surface in an attempt to re-materialize the moment, to physicalize it and bring it to present time.
The title "Anamesa" (Between) is borrowed from a poem by the artists' grandmother, Eleni Potaga:
Between II
It is not the body,
It is the moment,
It is the infinite moment
. Between the caress
And the body.
Between
The body
And the feeling.
Between the feeling
And bliss.
2023 Antidote