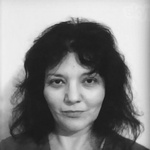 Kyriaki Goudeli
Bio
Her research interests revolve around the philosophy of nature, cosmology, and mythology, metaphysics of experience and philosophy of art, mainly through German Philosophy and the modern reception of ancient Greek philosophy. She is the author of the monographs Challenges to German Idealism: Schelling, Fichte and Kant, Palgrave, Macmillan, 2002, Introduction to the Philosophy of Spinoza, www.kallipos.gr, 2015, as well as, of many contributions in collected volumes and articles in international philosophy journals, such as:
'Schelling on Plato's Timeaus', in The Barbarian Principle: Schelling and Meleau Ponty and the Question of Nature, J. Wirth & P. Burke ed., SUNY, 2013.
'The potencies of beauty: Schellling on the question of Nature and Art' in Comparative and Continental Philosophy, 4.2. 2012, Equinox-Washington Press.
'Kant's Reflective Judgment: the Normalisation of Political Judgment', in Kant-Studien, Band 1, 2003.