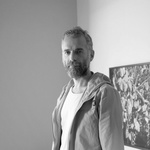 Panayiotis Lamprou
Bio
Born in 1975 in Athens, Greece, PANAYIOTIS LAMPROU (Panolabrou) is a visual artist and art consultant coordinator. He studied history and aesthetics of photography at the Photographic Circle, Athens, and research, history and archiving of photography at the Centro di Ricerca e Archiviazione della Fotografia in Spilimbergo in Italy. ​
He works between Athens, Italy and Belgium. He cooperates with organizations like Greek Literary and Historical Archive (ELIA ΜΙΕΤ) and Euromare, companies like COCO-MAT, METKA the business unit of MYTILINEOS S.A, (ΔΕΗ A.E) the Public Power Corporation S.A.(PPC), Thenamaris (Ships Management) and support the handicrafts Holy Ginger and FILMORA. ​
He collaborated for creating art projects with the National Technical University of Athens, the Hellenic Ministry of Citizen Protection, OAED (the Greek Manpower Employment Organisation), the Museum Dr.Guislain, the Center of research and archival of photography (CRAF) and the artists Socos and Ioannis Georgakakis. ​
For his workshop in art and photography collaborates with Buon Vento in Italy which organize courses in Schinoussa, Tilos, Milano, Bologna. ​
2023 Antidote