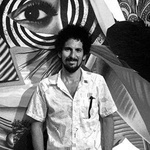 Peter D. Gerakaris
Bio
American interdisciplinary artist Peter D. Gerakaris was raised a free-range child in New Hampshire, earning a BFA from Cornell University and an MFA from Hunter College where he received the Tony Smith Prize.
Gerakaris' kaleidoscopic paintings, installations, and origami sculptures engage nature-culture themes and are showcased in various permanent institutional collections including the National Museum of Wildlife Art (Jackson, WY), NYC Department of Education Public Art for Public Schools (Brooklyn, NY), the U.S. Department of State Art in Embassies Program in Libreville, Gabon (Africa), the Schomburg Center (New York, NY), the Waskowmium (Burlington, VT), the Warwick Hotel (Bahamas), and Citibank, in addition to a spectrum of private collections around the globe such as Beth Rudin DeWoody and the William Lim Living Collection (Hong Kong, China).
Additionally, Gerakaris has created a variety of large-scale, site-specific commissions awarded by Cornell Tech, The Surrey Hotel, Bergdorf Goodman, and the Warwick Hotel Paradise Island Permanent Collection (Bahamas). He was also awarded a large-scale public art commission through the NYC Department of Cultural Affairs Percent for Art Program — a permanent, immersive installation spanning over 116ft at PS101K (Brooklyn, NY).
Having received distinctions such as the National Academy of Art's Edwin Austin Abbey Fellowship and the Vermont Studio Center's Clowes Foundation Full-Fellowship, his artwork has been exhibited internationally at the Bronx Museum, Wave Hill, Daniel Weinberg Gallery, Google NYC, FX Collaborative, Chinese Contemporary (Beijing), various art fairs such as Scope and the Doors (Seoul), iSolAIR (Cape Verde Islands, West Africa), the National Academy of Fine Arts, and the Mykonos Biennale, while also being featured in publications like Architectural Digest, the Financial Times, and W Magazine.
2019 Treasure Hunt
2013 Film festival
Floating World
2013
video - 3:12 minutes
This short film by Peter D. Gerakaris takes viewers on a microcosmic odyssey through his organically detailed "Floating World Accordion Book." Based upon a hand-made, hand-drawn, & hand-painted bi-fold book, Gerakaris seeks to explore new perspectives on his analog cosmology by melding it with the digital, four-dimensional "space-time continuum" of video. The organic abstractions and minutia of the bi-fold accordion books literally and metaphorically unfold in a non-linear format over time, originally conjured from travel, dreams, unconscious drawing, & shadow forms of the botanical world. These elements coalesce into a contemporary, yet personalized riff on "Ukiyo-e" – a floating world where the nocturnal & diurnal blur. In dialogue with many of the "visual loops" from his artwork, Gerakaris also composed and recorded an original musical "loop" as soundtrack for this fantastic voyage.
Garden of Cosmic Delights
2013
video - 3:36 minutes
Peter D. Gerakaris' short film, "Garden of Cosmic Delights" takes viewers on a kaleidoscopic journey through the artist's newest series of neon-charged, origami-fold accordion books. As intimate objects that have been fervidly constructed, painted, and drawn by hand – objects which relish the analog mode – these books also explore the complex terrain of Nature-Culture dynamics. As his first foray into film, Gerakaris seeks to expand upon the non-linear "popup" book format by utilizing the four-dimensional "space-time continuum" of digital video, while also bringing his visual vocabulary to life. The organic abstractions, geometric minutia, and symbolic imagery – which feature vibrant pollinators, bees, human extremities, seductive yet poisonous flowers, deep sea divers, galaxies, hexagons, and honeycombs – blossom into a metaphysical world that has been dubbed "Post-Pop Botanic." Within these neo-Boschian stage sets, woman and man emerge in figurine form, not only proposing a massive architectural scale for the book environments themselves, but also evoking a contemporary Eden-esque metanarrative. In dialogue with many of these "visual rhythms and loops," Gerakaris has also composed, performed, and recorded an original musical "loop" as soundtrack for this fantastic voyage.