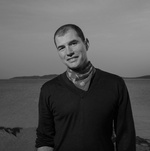 Spyros Paloukis
Bio
Spyros Paloukis is an artist. He focuses on long-term photographic projects. His approach is anthropocentric and he produces series of portraits, creating images and stories. This period of time he is preparing a photographic work about Mykonos called The Magical Island.
2023 Garden of Mysteries
Tama Kalenia, Performance, 2023
Tama is a form of a votive offering. The tama is dedicated to some higher power, in order to fulfil a wish of ours. They are usually made of base or precious metal in a form of small metal plaques, with an embossed image symbolising the subject of prayer for which the plaque is offered. In this project the tama is dedicated to love. Kalenias' words illuminate a piece of her heart; as her body swirls inside the ancient cave, she is becoming one with the universe while her thoughts illuminate our darkness:
'Tama to me from me, I seek from me, myself, I wish for love, I receive love, I offer and give back the gifts I have received from love, I let the wish come true and the tama to become a miracle, I feel the love around me and surrender myself to its rays'.
Tama Kalenia, Performance, 2023