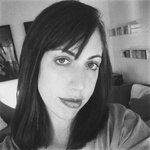 Yuli Aloni Primor
Bio
Yuli Aloni Primor is an interdisciplinary visual artist investigating the feminine psyche as it relates to both personal and existing modes of myth making and heritage.
Born July 18, 1986 in Tel Aviv to a family of artists and civil rights activists, Aloni moved with her family at age seven to NYC, where she grew up. She currently works between Tel Aviv, Berlin, and New York.
Before moving back to Israel-Palestine at age nineteen, Aloni attended three semesters in an interdisciplinary program at Hampshire College, (Massachusetts). Her focus was on film, creative writing, and theatre.
In 2009 Aloni enrolled in Bezalel Academy of the Arts, (Jerusalem), where she received a B.A. from the Fine Arts Department.
In 2020 Aloni lived six months in Berlin where she received an Artist Visa and studio. In May 2023 she graduated with an MFA from the School of Visual Arts in NYC. She currently works from her studio in MANA Contemporary.
2023 Antidote
2023 Garden of Mysteries
The Hand of the Artist, 2023
The Hand of the Artist: A technological Reverence to Daphne's Transformation." Echoing the myth of Daphne, the sculpture combines technology and mythology, as it showcases a 3D printed resin sculpture created from a scan of a bronze and rubber cast of the artist's own hand. Thus the hand and branches combine as a symbolic representation of the pursuit of artistic inspiration, mirrored in Daphne's transformation into a laurel tree to escape Apollo's advances and reuniting with Dionysus, unraveling the enigmatic secrets of the Orphic mysteries.